AIC Warrior News
SAGU AIC Accreditation News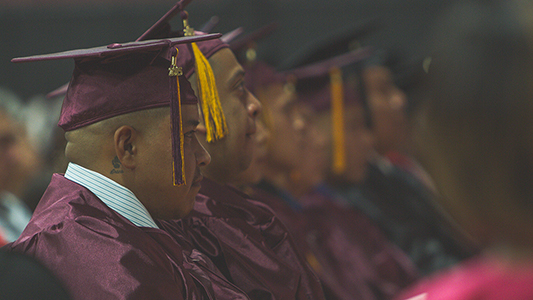 Phoenix, Arizona – October 4, 2017 – SAGU American Indian College (SAGU AIC) is pleased to announce its accreditation status with the Southern Association of Colleges and Schools Commission on Colleges (SACSCOC) as a part of SAGU. After a visit and subsequent report by a team of eight evaluators representing SACSCOC in April, the institution's accreditation was affirmed by the SACSCOC Board of Trustees at its meeting in June.
A most extraordinary outcome of this process was that the Substantive Change Committee of the Commission gave commendations to SAGU AIC for the quality of its report. There are approximately 45 SACSCOC standards for a merger-acquisition, and remarkably, the SAGU AIC campus was found compliant for every standard, with no further reporting required. This means that SAGU AIC is recognized as regionally accredited through the SACSCOC as a part of SAGU!
The report clearly demonstrated the quality of SAGU AIC's instruction, its commitment to student learning, and the excellence of its academic and student support programs. The Substantive Change Committee who visited SAGU AIC was impressed with the campus and with students, faculty, and staff.
SAGU President, Kermit Bridges, and five members of his Cabinet were at SAGU AIC during the SACSCOC visit. President Bridges was gratified that the Substantive Change Committee saw the diligent efforts and good work of the team on the ground at SAGU AIC. "Having been a part of a number of these visits, we have never had one quite as positive as this one," Bridges said. "We have many to thank for all of the work but certainly tremendous appreciation goes to the administrators, faculty, staff, and students of SAGU AIC, their counterparts at SAGU, along with the Accreditation Team who began preparing the SACSCOC Reports from the moment a consolidation was determined."
President Moore of SAGU-AIC stated, "We are excited about this new development …This brings immediate programmatic strength to AIC while remaining true to our goal of preparing Native American men and women for life and ministry service. I look forward to this endeavor, and I know our students look forward to the advantages it offers to them."
With such positive results from the evaluation, SAGU AIC is optimistic and excited for the future.
Southwestern Assemblies of God University (SAGU) American Indian College (AIC) is the nation's only private Christian college serving primarily Native American students. Established in 1957, AIC now serves nearly 25 tribes as well as other ethnicities.