AIC Warrior News
SAGU AIC Holds Commencement Ceremony for Class of 2019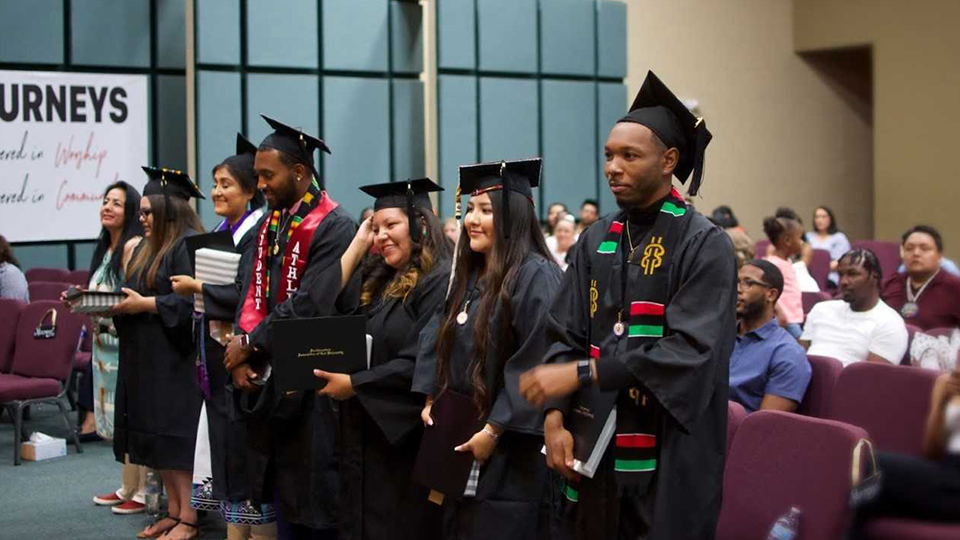 Phoenix, Arizona – May 16, 2019 – Southwestern Assemblies of God University American Indian College (SAGU AIC) just held its annual Spring Commencement exercises at Fountain of Life International Church in Phoenix. This year's graduation theme was "Warrior Unleashed" with Romans 8:37 as the theme verse. Special Congratulations to the following graduates!
Marlene Atsitty, B.A. (Elementary Education, Pre-Professional)
Jade Bonito, B.A. (Elementary Education)
Lupe Canales, B.A. (Elementary Education)
Kumase Demesma, B.S. (Business Administration)
Fayrene Holden, B.A. (Elementary Education)
Savena Rogers, B.A. (Church Leadership)
Michael Scroggins, B.S. (Interdisciplinary Studies)
Noteworthy among this group is the fact that Kumase Demesma was the first SAGU AIC student to graduate with a B.S. in Business Administration and Michael Scroggins who was the first graduate from SAGU AIC to receive a B.S. in Interdisciplinary Studies.
The Sigma Chi Pi Alumna Award was awarded to Delia (Orduno) Begay, B.A. (Elementary Education, 1996) as the outstanding alumna for this year.
Our two student speakers were Savena Rogers (Shoshone-Pauite) and Lupe Canales (White Mountain Apache). They both did an outstanding job with their stories of overcoming obstacles to achieve their bachelor's degree. Lupe's speech, in particular, was extremely profound since several years ago she was in a serious car accident that killed her two sons and caused her to suffer a traumatic brain injury. She was told by doctors that she would be intellectually impaired for the rest of her life. By God's grace, Lupe returned to school and was able to persist to completion! Today she is a First Grade Teacher!
SAGU AIC salutes all of its 2019 graduates and we are excited to "unleash" our Warriors!
Southwestern Assemblies of God University (SAGU) American Indian College (AIC) is the nation's only private Christian college serving primarily Native American students. Established in 1957, AIC now serves nearly 25 tribes as well as other ethnicities.