SAGU AIC Salutes Alumni Chaplain & Mrs. Michael Johnson, USN
AIC Warrior News
SAGU AIC Salutes Alumni Chaplain & Mrs. Michael Johnson, USN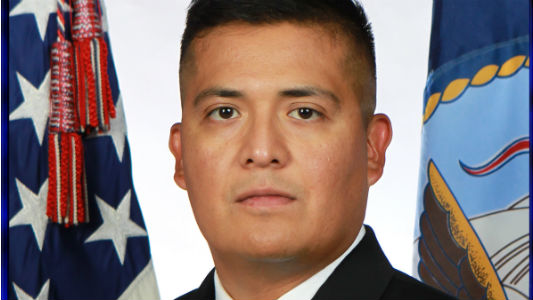 Phoenix, AZ – October 21, 2018 – Growing up in the remote Navajo community of Navajo, New Mexico, 20 miles from Window Rock, the capital of the Navajo Nation, Michael Johnson knew what it was like to experience hard times on the reservation where life was often filled with anger and hopelessness. Fortunately, he found Christ as a young man in high school and began to attend the Family Church, a vibrant Navajo church in nearby Ft. Defiance. Before he knew it, Michael was on his way to American Indian College (AIC) in Phoenix, Arizona where he found his purpose.
While there, Michael studied hard, participated in ministry outreaches, and was faithfully mentored by people like (then) President Jim Comer. Perhaps most importantly, Michael met the love of his life, Miracle whose name is truly an accurate description of who she is! Miracle (Van Zant) is a Seminole Indian from Oklahoma who also grew up in a hard scrabble existence. With key family members in prison, as a teenager she did not feel she had much to live for and at fifteen came very close to taking her own life. However, she fell under the loving influence of Christ and dedicated herself to His service. Like Michael she also attended AIC and was very active in ministry and was also an outstanding student, eventually graduating at the top of her class where she served as valedictorian!
Since graduating from AIC, both Michael (2006) and Miracle (2005) have married, graduated from the Assemblies of God Theological Seminary with their master's degrees, and successfully served in ministry as youth pastors and for a time at Global University in Springfield, Missouri. Today, Michael is Lieutenant (Senior Grade) Michael Johnson, a commissioned Chaplain with the United States Navy, and one of only three Assemblies of God Native American chaplains on regular active duty in the United States military.
Chaplain Michael Johnson serves as the Supervisory Chaplain for 3d Battalion, 11th Marines at the Marine Corps Air Ground Combat Center (MCAGCC) in Twentynine Palms, California, home of the 7th Marine Regiment (FMF, Reinforced). Chaplain Johnson's duties include providing religious ministry and services, as well as facilitating the needs of military personnel and their families. Chaplain Johnson summarizes his duties as "Caring for our people with dignity, respect, and compassion, regardless of an individual's beliefs, and making informed and professional referrals. Chaplains are available 24/7 with confidential counseling to ensure service members and their families have the spiritual resilience to cope with the inevitable hardships of military life."
In addition to managing their home, Miracle (also a credentialed AG minister) is on staff at First Assembly of God Twentynine Palms, serving as the Children's Pastor. Her duties are to coordinate staff and volunteers of the children's ministry team, train leaders in curriculum usage and leadership development. She is a part-time at the church but more importantly she also is a full-time mother, caring for their two children (Amelia 5, Levi 2). She takes pride
in raising the children, giving them the love and support they need, while also preparing them for their future education and Christian faith. According to Michael, "She is the bedrock of our home."
Summarizing his service as a U.S. Naval Officer, Michael relates: "I find that the most challenging thing about naval officership is the commitment to duty and honor. As a sea-going force, the Navy expects toughness and professionalism from its officer corps (with no exceptions, even chaplains). Most people are not aware that America's naval force constantly deploys air-ground-sea forces around the world, even in peace times. Going to sea is a great tradition, a rite of passage, and also a challenging one due to its 24/7 high tempo of stress and work. So as a naval officer serving as Chaplain, I find that my greatest need is to be authentic as possible. Authentic in leadership, in faith, in discipline, and in caring for people. That need calls for consistent refinement in my devotional life. It also challenges me to refine those skills in the most critical part of my life, my home. I count my marriage and family as the starting point of developing leadership, in fact, most of the ministry outflow that I pour into Sailors and Marines come from the ministry of my home life."
SAGU AIC salutes Chaplain & Mrs. Michael Johnson for their outstanding service to our country and to our Lord Jesus Christ! We are proud to have them as alumni!
---
Southwestern Assemblies of God University (SAGU) American Indian College (AIC) is the nation's only private Christian college serving primarily Native American students. Established in 1957, AIC now serves nearly 25 tribes as well as other ethnicities.