AIC Warrior News
SAGU AIC Celebrates Class of 2018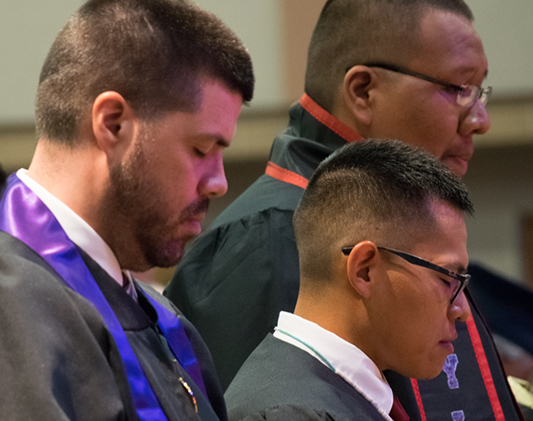 Phoenix, AZ – May 3, 2018 – SAGU AIC is a place dedicated to helping students uncover their destiny. Last Saturday, the school celebrated as it launched out ten graduates at its 60th Commencement Ceremony Saturday, April 27, 2018. Hundreds of friends and family members came to support and celebrate with them at Fresh Start Church.
Alumni Rodale Couleigh and Becky Olea each gave special vocal performances for the ceremony. Sigma Chi Pi Awards were awarded to graduate Tony Rivera and alumnus J.D. Lopez in recognition of their academic accomplishments. SAGU President Kermit Bridges gave a rousing commencement address charging graduates to attempt great things for God. Graduates shared their favorite moments at SAGU AIC and gave advice to current SAGU AIC students. Valedictorian Christian Smith presented an inspiring speech to fellow graduates, family, and friends. Many graduates plan to continue their education, others plan on applying their education in the ministry and the workforce.
SAGU AIC (Phoenix, AZ) offers an affordable Christian education to students, with Associate's and Bachelor's degrees in Elementary Education, Church Leadership, Business Administration, and Interdisciplinary Studies. We also offer a wide range of online programs. We are passionate about equipping a new generation of leaders and committed to the academic, professional, and spiritual development of every student.
---
Southwestern Assemblies of God University (SAGU) American Indian College (AIC) is the nation's only private Christian college serving primarily Native American students. Established in 1957, AIC now serves nearly 25 tribes as well as other ethnicities.