AIC Warrior News
SAGU AIC Celebrates Highlights of 2017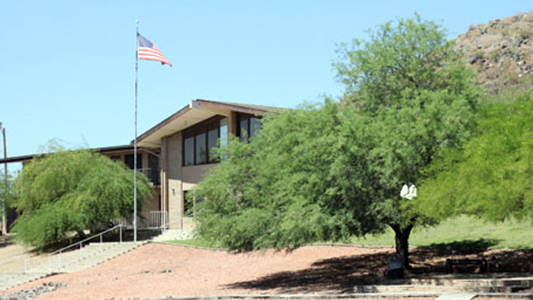 Phoenix, AZ – December 4, 2017 – As 2017 comes to a close, Southwestern Assemblies of God University American Indian College (SAGU AIC) reflects on a number of important milestones and moments of significance for the institution. Several of these important victories are included below:
January 2017 – SAGU AIC began the 60th year as the only Christian College in the United States serving primarily Native American Students.
January 2017 – Administrative Dean, Dr. Joseph J. Saggio published an online article "Maintaining a Culturally Diverse Educational Climate During an Institutional Consolidation" with Omnikal, an e-journal in international business.
May 2017 – Professor, Dr. Ron Claus received his Doctor of Ministry degree (D.Min.) from The Assemblies of God Theological Seminary, part of Evangel University.

June 2017 – SAGU American Indian College was authorized to offer a Bachelor in Business degree on its site under the auspices of the School of Distance Education at SAGU, allowing students to take both ground and online courses towards the bachelor's degree.

May 2017 – SAGU American Indian College joined the National Christian College Athletic Association (NCCAA) competing in Men's Basketball and Woman's Volleyball.

June 2017 – Professor, Dr. Sherry Jones was named to the executive board of Association of Arizona Colleges of Teachers Education (AAZCTE).

July 2017 – At SAGU American Indian College many infrastructure projects were completed or started. The Chapel Lobby, administration offices, and the President's office were re-modeled. The Gannon and Washburn Dorms modernization project was (started) and the Scott Activity Center Gymnasium floor was re-finished.

August 2017 – SAGU American Indian College partnered with IGNITE School of Ministry program and IGNITE students are able to jointly participate in both programs.

October 2017 – SAGU American Indian College Phoenix, Arizona announced its accreditation status with the Southern Association of Colleges and Schools Commission on Colleges (SACSCOC) as a part of SAGU. After a visit and subsequent report by a team of eight evaluators representing SACSCOC in April, the institution's accreditation was affirmed by the SACSCOC Board of Trustees at its meeting in June.
November 2017 – Adjunct Professor, Laura Lea Sims completed her (second) Master's degree in History through Liberty University.

December 2017 – Work began on the new Warrior's Dean, which will provide a bookstore, coffee shop and meeting place on campus for students.
With so many important victories during the past year, SAGU AIC is excited for all that God has in store for students and the institution in this next year.
---
Southwestern Assemblies of God University (SAGU) American Indian College (AIC) is the nation's only private Christian college serving primarily Native American students. Established in 1957, AIC now serves nearly 25 tribes as well as other ethnicities.