SAGU AIC Undergoes First Graduation Since Union with SAGU
AIC Warrior News
SAGU AIC Undergoes First Graduation Since Union with SAGU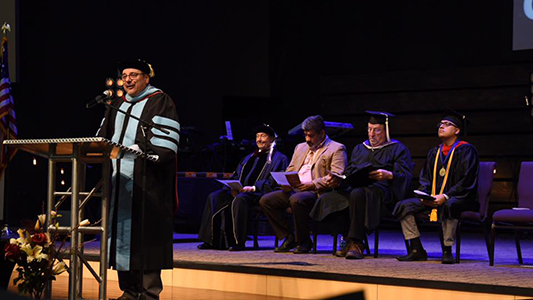 Phoenix, Arizona – May 17, 2017 – Southwestern Assemblies of God University American Indian College (SAGU AIC) experienced its first graduation since the official completion of its union with SAGU in 2016.
A total of 13 students from a wide range of studies graduated from AIC on April 29. Eight students graduated with a bachelor's degree in either Church Leadership or Elementary Education while the remainder of students received an associate's degree in Bible or Business Administration.
Dr. Joseph J. Saggio, Dean of the College says, "Although we are a smaller campus, we have had a wide variety of graduates with diverse skillsets. Being in partnership with SAGU allows us to offer a broader curriculum."
AIC's merger with SAGU was officially announced in the spring of 2016, and SAGU began offering academic programs at SAGU AIC in the fall of 2016.
"I think this partnership has worked very well so far," says Dr. Saggio. "The fact that SAGU and AIC had very closely aligned missions enabled us to work well together."
Dr. Kim Bernecker, SAGU Vice President for Institutional Effectiveness, was the keynote speaker for AIC's graduation ceremony.
"What an honor and privilege it was to be at SAGU AIC to celebrate the accomplishments of our exceptional students in Phoenix, Arizona," Dr. Bernecker said. "The ceremony was beautiful, and the students' comments were touching, as they reflected on their time at AIC and gave salient advice to the students starting their educational journeys."
"It was especially gratifying to celebrate with the outstanding administration, faculty, and staff at SAGU AIC after having worked with them to display their academic excellence to our regional accreditor, the Southern Association of Colleges and Schools Commission on Colleges, just a few weeks earlier. Not only was accreditation fully affirmed, the Visiting Team members could not say enough about how impressed they were with the school, the students, and their interactions with them. What a joy to be a small part of the important work that is done at AIC."
About SAGU AIC:
Southwestern Assemblies of God University (SAGU) American Indian College (AIC) is the nation's only private Christian college serving primarily Native American students. Established in 1957, AIC now serves nearly 25 tribes as well as other ethnicities.