Alumnus Jameson D. Lopez Announced as New Professor for University of Arizona
AIC Warrior News
Alumnus Jameson D. Lopez Announced as New Professor for University of Arizona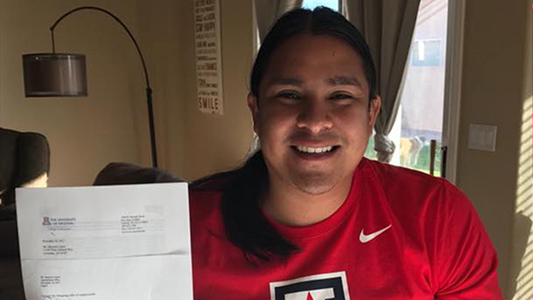 Phoenix, AZ – January 3, 2017 – Jameson D. (JD) Lopez is formally invited to join the faculty of the University of Arizona in Tucson, Arizona, effective August 2018 where he will be appointed as an Assistant Professor of Higher Education. There he will continue in teaching, research, and service at one of America's finest public research universities. JD sees his calling in life "to help increase the capacity of tribal communities through education and research."
His parents, Rev. Jim Lopez (former AIC President) and Belinda F. Lopez (former AIC faculty member) who are long-time pastors and educators instilled a love of excellence and learning in JD's life. After graduating from high school, JD set his sights on attending American Indian College where he excelled in both academics and ministry, graduating with a degree in Elementary Education at the top of his class in 2008.
Proud of his Native heritage (Quechan and Cocopah) JD is also committed to his legacy of military service following the example of several of his male relatives, so after graduating from AIC he became an officer in the United States Army and served in Iraq, returning as a First Lieutenant in 2012. After returning home he completed a master's degree in Curriculum and Instruction at Arizona State University in 2013 and decided to stay on and get his Ph.D. in Educational Leadership and Research where he has focused on Native American educational access and policy issues. In 2015, he was appointed to a prestigious Pat Tillman Fellowship, an honor offered only to very few military soldiers nationally who show great promise as researchers and leaders.
As a Pat Tillman scholar, JD has had the opportunity to promote his concerns and passion for Native American students at all levels. A popular and engaging communicator, he has had many opportunities to share his research at higher educational conferences, churches, and at various educational institutions including SAGU AIC where he regularly provides in-service training to its faculty on Native issues in higher education. In the last few years, he has emerged as a key scholar in issues related to Native American access and success in American education and has been published in a growing number of academic publications.
Dr. Joseph Saggio, Administrative Dean, says, "Here at SAGU AIC we salute J.D. Lopez as he approaches completion of his Ph.D. and in his forthcoming role as a professor at the University of Arizona in Tucson. Congratulations and may the Lord use you greatly! We are truly blessed to have alumni such as you distinguish yourself through excellence in all you do. Our thoughts and prayers are with you, your lovely wife Vanessa, Luna, and Gordon as you make this exciting move!"
---
Southwestern Assemblies of God University (SAGU) American Indian College (AIC) is the nation's only private Christian college serving primarily Native American students. Established in 1957, AIC now serves nearly 25 tribes as well as other ethnicities.