AIC Warrior News
Let the Games Begin
Phoenix, AZ
August 29, 2019 | Paul Labate
---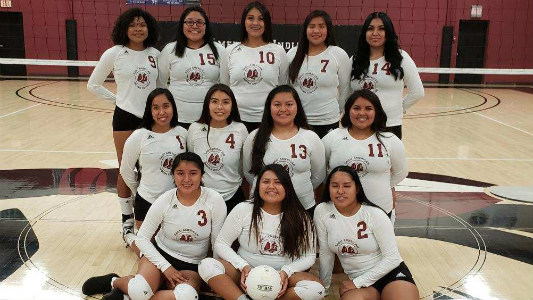 On Saturday August 24, 2019 the SAGU American Indian College Warriors Volleyball team took an hour and a half drive north to participate in a tri match at Embry Riddle Aeronautical University in Prescott, AZ. The Warriors 2019 team is made up of all first year players including Captain Jaylin Tochoney (Tuba City, AZ). The only returner to this year's team is Sophomore Captain Ally Case (San Carlos, AZ).
The first match of the day was against defending 2018 NAIA Cal Pac Champion Embry Riddle. The Lady Warriors started out slow losing the first two sets 25-3, 25-6 before a much improved 25-15 showing in the third set. "This was a good experience for our team to play such a polished program" said first year Warrior coach Bob Le Vardo. "I am very proud how we finished the third set, the girls were a little nervous at first, but by the third set we looked a lot more comfortable."
The second match of the day came only 45 minutes after the Embry Riddle match and the Lady Warriors were up against Arizona Christian University. They fell in three hard fought sets 25-13, 25-15, 25-12.
Overall, even though the team lost both matches, there was a positive vibe among the team members. American Indian College fans came out in full force and this marked the first time since starting the season the ladies have seen their families and friends from home. The Warriors have much work to do and another tournament next weekend at Arizona Christian University. The first game will be Friday August 30th at 3pm against Arizona Christian University followed by a match with Dakota State University at 5pm. Saturday August 31st the team will kick off at 10am against Montana State Northern University and at noon versus first year program Park University. This will be the first tournament on the new Arizona Christian University campus located at 1 Firestorm Way Glendale, AZ 85036.
---
Southwestern Assemblies of God University (SAGU) American Indian College (AIC) is the nation's only private Christian college serving primarily Native American students. Established in 1957, AIC now serves nearly 25 tribes as well as other ethnicities.
To schedule a tour call
(602) 281-6764