SAGU AIC Announces the hiring of Ryan Brown as Head Men's Basketball Coach
AIC Warrior News
SAGU AIC Announces the hiring of Ryan Brown as Head Men's Basketball Coach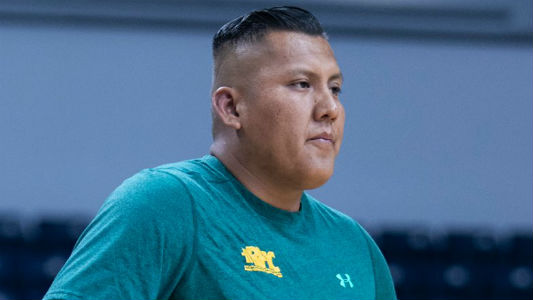 Phoenix May 1, 2019: SAGU American Indian College has recently hired Ryan Brown as the Head Men's Basketball Coach. From 2013-2016, Coach Brown led Tuba City High School (Tuba City, AZ) to three consecutive playoff appearances while accumulating a 68-27 overall record. He was named The Navajo Times 2013-2014 "Coach of the Year" and was selected as head coach of the Arizona high school all-stars for their game against the New Mexico high school all-stars.
Coach Brown played two years of college basketball as captain of the Haskell University men's basketball team and graduated from Black Hills State University in 2010 with his B.S. in Exercise Science.
A native of Tuba City, Arizona, Coach Brown has spent the last few years working closely with the Native American community developing youth sports camps with emphasis in basketball skills development, sports performance, and community health and wellness. Coach Brown also interned at Pure Sweat Basketball, which is headed up by NBA skills trainer Drew Hanlen. He has had the opportunity to work with players Bradley Beal, Jayson Tatum, Joel Embid, and Kelly Oubre Jr.
SAGU American Indian College is a private Christian college located in Phoenix, AZ and is known for its work with a diverse student population that want to become pastors, educators, or business and community Leaders. SAGU American Indian College offers both associate's and bachelor's degrees and is also known as being one of the most affordable private Christian colleges in the nation.
SAGU American Indian College Athletic Director Paul La Bate said "With Coach Brown we have a young leader, with head coaching experience, and a man who is passionate about his faith. We have raised our expectations here at SAGU American Indian College and we feel Coach Brown was exactly what we wanted in a head coach. We are blessed to have hired him."
SAGU American Indian College men's and (new) women's basketball programs will open their season October 18, 2019 at The Scott Activity Center on the campus of SAGU American Indian College at 10020 N. Fifteenth Avenue in Phoenix, AZ. For tickets or information please contact Paul LaBate Athletic Director at 602-944-3335 (campus) or 480-401-8781(cell).