SAGU AIC Athletics Signs Basketball and Volleyball Players
AIC Warrior News
SAGU AIC Athletics Signs Basketball and Volleyball Players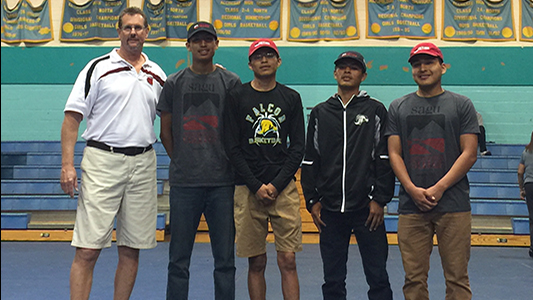 Phoenix, AZ – May 4, 2018 – The SAGU AIC Warriors athletic teams for the upcoming season are beginning to take shape. Men's Basketball Coach Tom Kuyper recently signed 8 new players for the upcoming season. Four Alchesay High Seniors have signed to become SAGU AIC Warriors next year (Sanjuan Slick, Raekwon Cosay, Jeron Daley, and Harley Upton). Other new basketball recruits include Jacob Morales of Mountain Ridge High School, Leroy Slaton of Hibbing Community College, Tristan Nez of Window Rock High School, and Aloysius Case of San Carlos High School.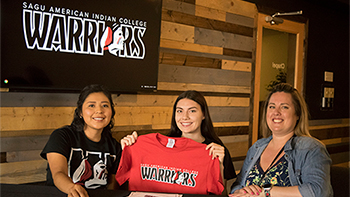 The Warrior Women's Volleyball Team is also welcoming new recruits—Jaylene Gosselin of Maricopa High School has signed with SAGU AIC for the upcoming volleyball season last Monday.
SAGU AIC is thrilled to welcome these athletes to the student body. SAGU AIC is a member of the NCCAA (The National Christian College Athletic Association), with teams in Men's Basketball and Women's Volleyball. SAGU AIC (Phoenix, AZ) offers an affordable Christian education to students, with degrees in Business, Education, Church Leadership, General Studies, and a wide range of online programs. SAGU AIC is passionate about equipping a new generation of leaders and committed to the academic, professional, and spiritual development of every student.
---
Southwestern Assemblies of God University (SAGU) American Indian College (AIC) is the nation's only private Christian college serving primarily Native American students. Established in 1957, AIC now serves nearly 25 tribes as well as other ethnicities.