AIC Warrior News
Men\'s Basketball Returns Home with a Split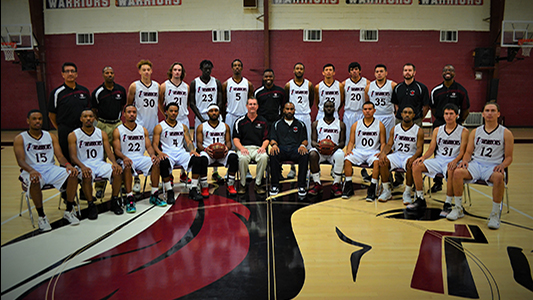 Phoenix, AZ – December 4, 2017 – Southwestern Assemblies of God American Indian College (SAGU AIC) Men's Basketball team returned from a recent road trip with a split. In the first contest, SAGU AIC defeated Indian Bible College in Flagstaff, Arizona. With a final score of 77-51, SAGU AIC gives thanks to a great team-effort based on the contributions from all 15 players. In the second game of their road trip, SAGU AIC fell to Northern New Mexico with a final score of 101 to 83.
This is SAGU AIC's first year competing in the National Christian College Athletic Association (NCCAA), Division II. Despite fielding a squad of almost all freshmen players, SAGU AIC has been competitive averaging 71.2 points per game earning them the 12th spot nationally. SAGU AIC is led by national assists leader Michael Scroggins (Phoenix, AZ) who averages 6.2 points per game, as well as Gum Makuei (Phoenix, AZ) who leads the nation in blocks (1.8), is second in rebounding (9.7), and 16th overall in scoring (17.1). Also chipping in is Ralph Myles (Phoenix, AZ) who averages 16.1 points per game.
Head Basketball Coach Tom Kuyper said, "I liked the way the team bonded on this recent trip." He added, "The team is starting to gel as a unit and I am very excited for the second half of the season."
SAGU AIC has a busy December schedule with a trip to California to compete with the University of Los Angeles, William Jessup University, and New Hope Christian College on December 13, 14, and 15. They return to Phoenix for the Chandler Community College Holiday Tournament on December 17-19.
SAGU AIC men's basketball returns to action after the break on January 15th at an away game at Miramar University in San Diego, CA. The next home game is scheduled for January 25, 2018, against Indian Bible College.
If you or someone you know is interested in playing basketball at the college level, please call Coach Kuyper on his cell phone (602-600-7713). You may email him at [email protected].
---
Southwestern Assemblies of God University (SAGU) American Indian College (AIC) is the nation's only private Christian college serving primarily Native American students. Established in 1957, AIC now serves nearly 25 tribes as well as other ethnicities.