SAGU AIC Looks for Potential Volleyball Players for Upcoming Season
AIC Warrior News
SAGU AIC Looks for Potential Volleyball Players for Upcoming Season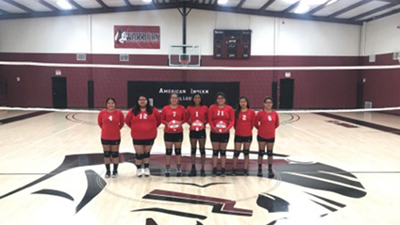 Phoenix, Arizona – June 6, 2019 – Southwestern Assemblies of God American Indian College (SAGU AIC) is currently looking for potential players for its volleyball program.
"We are looking to build our women's volleyball program with hardworking, talented, intelligent, Christian student-athletes," says Bob Levardo, Head Coach of the women's volleyball team.
The volleyball team just completed its second volleyball season competing in the National Christian College Athletics Association (NCCAA). The team consisted of student-athletes from Arizona and New Mexico. During this past year, SAGU AIC played a nine-game independent schedule in the Southwest division II conference of the NCCAA. In 2019, the warriors will compete in 18 matches allowing them to have an opportunity to qualify for the NCCAA national tournament.
If you or someone you know is interested in playing volleyball on the college level, please call Coach Levardo at 602-722-5048 or email him at [email protected]
---
Southwestern Assemblies of God University (SAGU) American Indian College (AIC) is the nation's only private Christian college serving primarily Native American students. Established in 1957, AIC now serves nearly 25 tribes as well as other ethnicities.